By
James Moorer
- March 14, 2023
The next time you find yourself caught up in fear and doubt about your ability to achieve your dreams, I want you to ask yourself a question: Do you have a Driver's License?
Some of you may not understand this if you've only received this item, but for those of you who've been behind the wheel for more than two decades, I want you to consider something. WITHOUT A SECOND THOUGHT, you get behind the wheel of a half-ton of metal with the ability to maim, kill, and wipe out lives in seconds...and you MASTER IT. Completely confident and without fear. For those of you who live on the West Coast and grew up where I did in the Midwest, not the threat of a downpour of rain nor even snow diminishes your confidence, and you laugh at people who fear driving home from work in a storm.
HOW IN THE HELL DID YOU GET SO DAMN CONFIDENT? WHAT MADE YOU SO FREAKING FEARLESS? You faced your FEAR of this monstrosity...DAY ONE.
You practiced, over and over and over and over again. As your skill grew, so did your confidence, your instincts, and your ability to not only CONTROL, but to MASTER this vehicle. And the result... YOU GOT A LICENSE TO DRIVE.
Now imagine putting that same kind of effort, determination, and diligence into YOUR DREAMS! What is REALLY beyond you? NOTHING.
One of things I enjoy most in life is driving up the coast, windows down, sea breeze filling my lungs. It's a reminder that the work I put in many years ago produces the results I enjoy today.
Give yourself permission to live your dreams. You got this.
Go. Be. Epic.
JM
For more, checkout "Go Be Epic: A 21-Day Workbook & Journal for a More Fulfilling Life" by James Moorer & Aaron Silverman, available on
jamesmoorer.com/books
and wherever books are sold.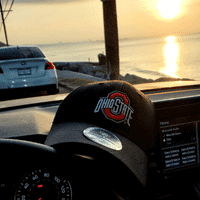 About the author
James Moorer
Screenwriter. Author. Producer. Mentor. The Ohio State University Alum. Pancake Lover.