What are you saying about yourself?
By
James Moorer
- April 13, 2021
Listen to me...
Listen to me very carefully...
YOU NEED TO BE VERY CAREFUL WITH WHAT COMES OUT OF YOUR MOUTH.
Stay with me now...
We're in a moment where everyone is very passionate about one thing or another, sadly it's most often about things we hate or difficulties with the world around us, and that's fine.
But are you putting that same passion into achieving your goals, living your dream, changing your life to the life you've always wanted?
Do you spend more time talking about throwing in the towel or being angry about something, someone or some issue than you do uplifting and speak your own success into existence?
Far too many of us are walking around, UNCONSCIOUSLY CONSCIOUS. Operating on auto-pilot from the moment our feet hit the floor. Absorbing the misery and the madness before we've even had a chance to wash the day before off our faces.
So by the time you get moving into your day, you've already been programmed to be ALL UP IN YOUR FEELINGS instead of being ALL ABOUT YOUR FUTURE.
Are you still with me?
But every morning we can make a choice. We can choose to shut out the noise, the drama, the hate and the well-designed triggers meant to push your buttons and speak about something that takes you away from SPEAKING YOUR SUCCESS INTO EXISTENCE.
Some of you might not believe in that kind of thing and that's okay too, but who are you afraid of speaking it to?
Because these aren't conversations you have with your spouse or your kids or friends. This is you talking to you.
I'm not asking you to give up your passion for the things you feel strongly about. I'm asking you to put that same energy into the betterment of YOU.
I'm asking you to give a damn about yourself the way you do some of this other stuff.
I'm asking you to make YOU a priority.
I'm asking YOU TO GIVE A DAMN ABOUT YOU.
Finally... I'm pretty sure I've pissed off a few people with this but to those who find themselves negatively in their feelings about what I said, let me ask you a question...
How come this Black Man gives a damn about you and your dreams more than you give a damn about it?
So have I scared you or prepared you?
We'll see... I'll be watching.
JM
P.S. I'm not asking you to do anything I don't do for myself...
EVERY. DAMN. DAY.
Go Be Epic.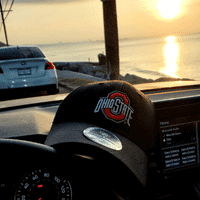 About the author
James Moorer
Screenwriter. Author. Producer. Mentor. The Ohio State University Alum. Pancake Lover.